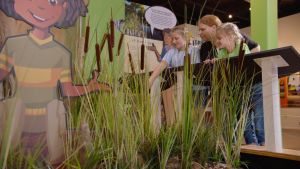 Showcases the unique and varied ecosystems of the St. Johns River as well as it's unique history, culture, and commerce.
102 North First Street, Palatka
Open Tuesday through Saturday from 10:00 am to 4:00 pm, Sunday from 1:00 pm to 4:00 pm.
386-326-2704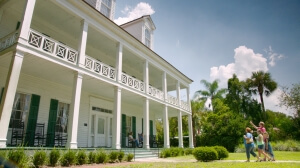 Built in 1854, the Bronson-Mulholland House stands as a testament to the City's rich history. It is a stunningly furnished antebellum home sitting on 2+ acres of greenspace overhung with live oaks and magnolias. It is available for free guided tours as well as a rental venue for weddings and other events. 
100 Madison Street, Palatka
Open every Saturday from 10:00 am to 4:00 pm and the first Sunday of each month from 1:00 pm to 4:00 pm.
386-326-2704
Welaka National Fish Hatchery and Aquarium
Aquarium, observation tower, 3/4 mile nature trail, picnic area, wildlife viewing and eagle cams. Operated by the U.S. Fish and Wildlife Service
301 South St., Welaka
Open seven days A week from 7:00 am - 4:00 pm, guided group tours available, free admission
386-467-2374 
Operated by Interlachen Historic Society.
311 Atlantic Ave., Interlachen
Open Saturdays 10:00 a.m. - 2:00 p.m. and group tours by request.
386-684-0103
Putnam County has a rich and fascinating history. From the early days of riverboats and the rebirth of a town dusting itself off from the devastating effects of a massive fire in it's downtown district in 1884. The Putnam County Historic Museum houses the archives and memorabilia of the History of Palatka and Putnam County. Come and explore our unique history. The museum is housed in the oldest surviving structure in Putnam County, originally built in 1834 and served as the Officers Quarters during The Seminole Indian War.
100 Madison Street, Palatka
Open 2:00 - 5:00 p.m. Tuesday, Thursday, and Sunday
386-325-9825
David Browning Railroad Museum
Historic Photos, Documents, Railroad Memorabilia, Maps, Signs and an Operating Model Train depicting Palatka and surrounding areas during the heyday of rail traffic.
11th and Reid Street, Palatka
Open 1:00 - 4:00 p.m. 1st Sunday & 3rd Saturday each month
For Information or to schedule a tour call: Palatka Railroad Preservation Society 386-328-1539
Little Blue House Heritage Museum and Art Center
This former home, dating back to 1871, showcases the history and art of South Putnam County.
602 N. Summit Street, Crescent City
Tues-Sat 2:30-5:00
(386) 698-4711 or (386) 698-1911
Mt. Royal Indian Temple Mound
The Mount Royal Archaeological Site includes a Native American burial mound, earthworks, village area, and evidence of a British plantation, as well as the remains of a Spanish mission occupied by the Timucua Indians. Of those, only a one-acre area is preserved in a parcel owned and managed by the Florida Department of Historical Resources. Once a Timucuan Indian Temple. Largest sand mound in Florida. William Bartram was first to write about the mound and urged that it be preserved. C.1250-1500
120 Indian Mound Dr. Crescent City, FL
Free Admission 
386-467-2863
The Fort Gates Ferry shuttles automobiles and passengers between Welaka and the Ocala National Forest across the St. Johns River, downstream of Lake George and just upstream of Little Lake George. The oldest operating ferry in Florida, it acts as part of the Florida Black Bear Scenic Byway.
229 Fort Gates Ferry Rd., Crescent City, FL
Operates from 7:00 a.m. – 5:30 p.m. daily, except Tuesday.
$9.00 per car